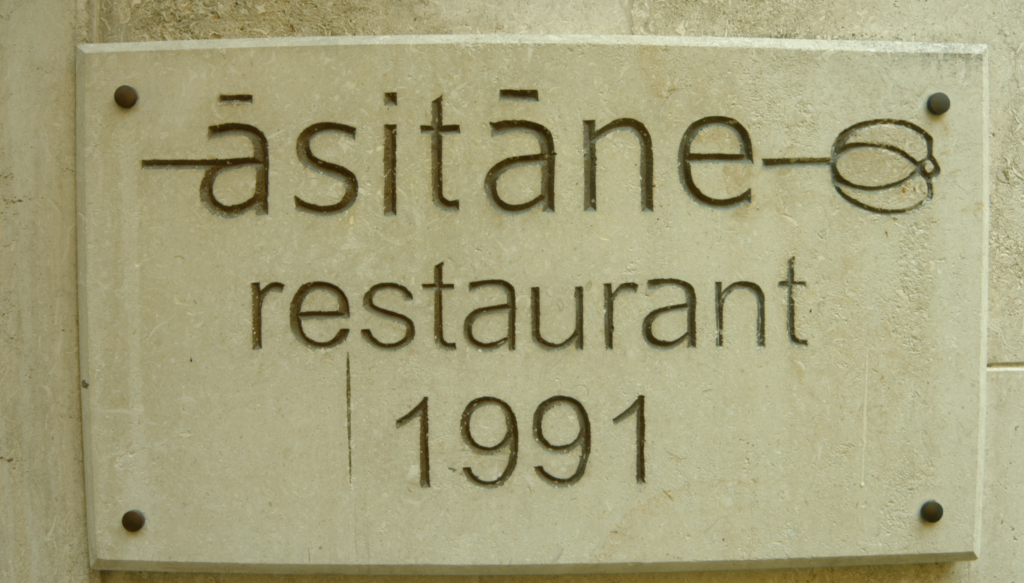 We arrive at the beautiful Āsitāne restaurant near the gorgeous Kariye (Chora) Museum in Edirnekapı neighborhood. This restaurant specializes in fine Ottoman Cuisine, and the way dishes were conceived at the Palace during the Ottoman Empire. They have unearthed and included over 200 recipes from palace archives into their menu since they opened up in 1991.
The garden of this beautifully restored historical mansion is a quiet oasis to enjoy a meal. We walk in before lunch hour with our numerous cameras, audio and lighting equipment and a 7-person team to take over the inside of the restaurant. General Coordinator Batur Durmay is a gracious host and puts up with us moving every furniture inches to the left or right for the perfect set up.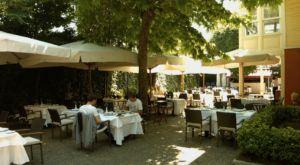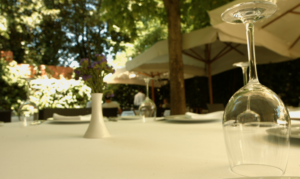 As we start chatting about the history of the restaurant he tells me that they may have been the very first establishment to specialize in the Ottoman Palace cuisine. This also meant they had to create an awareness and a demand to go with it. They had to do a lot of research to construct their menus, going into the archives, understanding what was used, when, and with which technique in the royal cuisine. It was a labor of love venturing into food while continuing their family owned boutique hotel business.
He says only about 40% of their customers are from Turkey. And almost no one comes with a clear understanding of Ottoman cuisine or its refinement. In an indirect way, they have an educational mission as well, showcasing how things were combined with a clear intent in this cuisine: sweets are complemented with sour tastes, dishes with vinegar are cooked with sweet onions etc.
He doesn't find it surprising at all that international customers are clueless about the variety that exists in the Turkish cuisine in general. He thinks this is due largely to Turkish immigrants living abroad and are in the food business. Almost none of them are chefs and they present a very limited version of the Turkish cuisine, he argues. Hence the tourists arriving in Turkey think of kebap more than anything else and maybe a few mezes as representative of Turkish food. They are of course delightfully surprised when they encounter the menu at Āsitāne.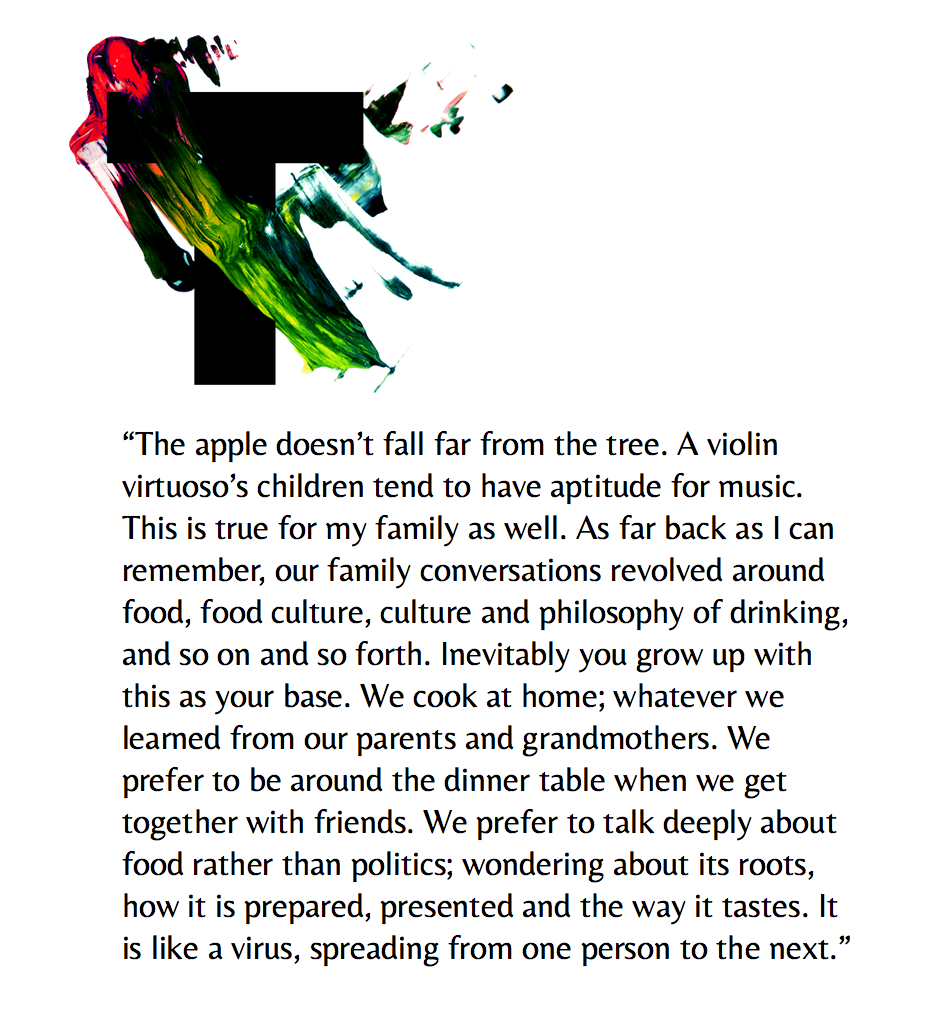 Batur Bey also talked about how our relationship with food changes from one generation to the next. His generation in Turkey, those who are in their 40s today, wasn't interested in food, especially as a career he says. And people didn't bother to learn to cook from their grandmothers either. This he sees as a loss, because without such upbringing one looses touch with the culture as well. Without a sofra (dinner table) tradition, one cannot pass that to the next generation. He is hopeful though as the younger generations are far more interested in food culture in general, and food as a career.
When I asked about his personal relationship to food he said: "The apple doesn't fall far from the tree. A violin virtuoso's children tend to have aptitude for music. This is true for my family as well. As far back as I can remember, our family conversations revolved around food, food culture, culture and philosophy of drinking and so on and so forth. Inevitably you grow up with this as your base. We cook at home; whatever we learned from our parents and grandmothers. We prefer to be around the dinner table when we get together with friends. We prefer to talk deeply about food rather than politics; wondering about its roots, how it is prepared, presented and the way it tastes. It is like a virus, spreading from one person to the next."
Batur bey's deep knowledge about the Ottoman cuisine is impressive. It is clear that this is more than a money making venture, but rather a labor of love for him. I believe he just had a baby (Congratulations!!!!), and I can easily picture him in the kitchen teaching his children what he learned from his parents and grandparents. I vividly remember my mom and aunts cooking and laughing together in my grandmother's kitchen in Akcaabat (Trabzon) where a beautiful old wood stove resided with karalahana soup and tea bubbling on it, with corn bread in its belly, some of us lying on the comfy sofa next to the large kitchen table, my brother  or cousins sitting on the windowsill with a book. There is something about cooking with and around children – what a beautiful legacy to pass on to the next generation…
As we wrapped up the interview they brought out dishes to taste which made me giddy as a child. YUM! Let's be honest, one of the coolest things about this project is the food. Must come back to this place to have the full dinner experience next time I am in Istanbul. But I digress… First up is the 14th century recipe for humus dolması. There is no tahini in this recipe, instead it is made with chickpeas, currants and olive oil, among other spices. It is served as a starter at room temperature.
Then comes the kavun dolması (stuffed melon) with ground meat, rice, herbs, almonds and. Apparently the Ottomans loved stuffing anything in season, including fruits. This recipe dates back to 1539. It was served at the circumcision ceremony for Sultan Süleyman's two sons in Edirne. At Āsitāne they make this recipe during winter with quince. During spring, they substitute tart pears and apples.
The last plate is gömlek kebabı ("Fatty Apron" kebap on their menu), a recipe from 1764. It is a ground lamb and beef dish with coriander seeds, cumin, pine nuts and mint, wrapped in caulfat and roasted in the oven with lots of fresh cilantro. Batur bey suggested that this is a taste closer to our palette in Turkey today.
There are also Ottoman beverages on the table, made with seasonal fruits and spices. Şerbet is made with fragrant fruits and flowers by pressing (without processing or cooking the fruit), while şurup is made by boiling fresh or dried fruits with the addition of lemon sugar. Depending on the season they can be tart and less sugary, such as during summers to have a refreshing effect. During winter there is more honey and sugar used in these recipes. The most interesting one was the Demirhindi şurubu (tamarind syrup). Batur bey called this an Istanbul recipe, though sometimes we see it in the Aegean as well. They have thirty different recipes for şurup and şerbet at Āsitāne. Come on down and have a blissful meal in the garden…
The saddest thing is though, these days there are no tourists in Istanbul, and restaurants like Āsitāne with mostly tourists as regular customers are suffering. Another restaurant we interviewed in the movie just closed its doors last week (Lokanta Maya). Let's hope people will feel safe enough to visit Istanbul soon, before these beautiful establishments possibly go out of business, leaving a void in their wake.
---
Visit the Āsitāne at this address: Kariye Camii Sokak No:6
34240 Edirnekapı, İstanbul, Turkey
T: (212) 635 7997
F: (212) 521 6631